powering patients'
well-being
NEUSPERA® TECHNOLOGY IS
smaller. deeper. smarter.
The Neuspera system's leadless micro-implant and ability to wirelessly power at depth enable a less invasive and more versatile platform for neurostimulation therapy.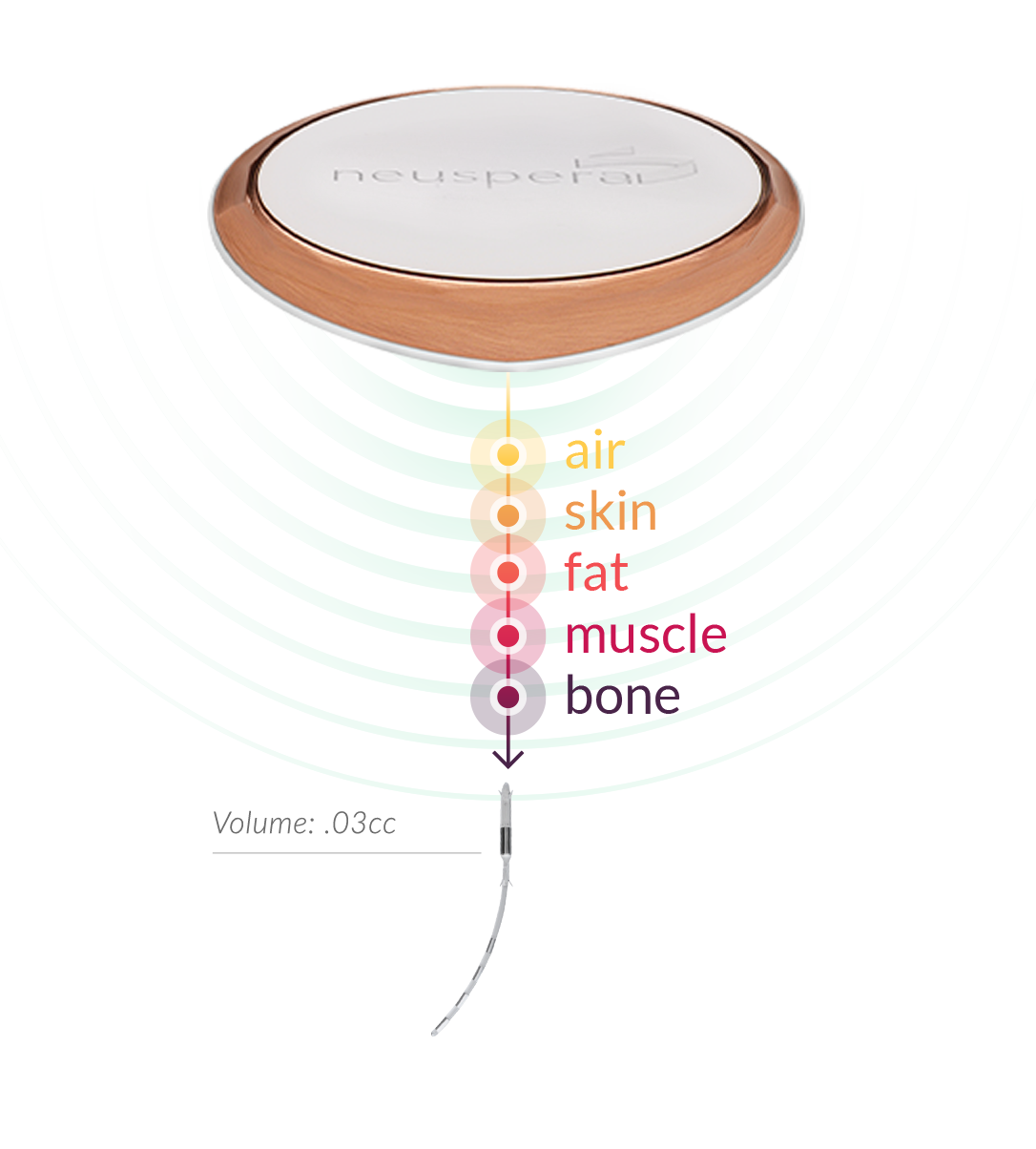 MID-FIELD POWERING
technology
Neuspera's patented Mid-Field Powering technology uses evanescent and propagating electromagnetic waves to power implanted medical devices to depths of 10cm and beyond. Using the body as a natural waveguide, the Neuspera system can focus power, ensuring energy is delivered to the precise area it is needed.
Leveraging efficient power transfer, the power receiver is less than a few millimeters in size, allowing implanted devices to be placed deep in the body: brain regions, peripheral nerves, cardiac muscle, ganglia and more.
ULTRA-MINIATURIZED
implantable device
The Neuspera micro-implant has a modular construction, enabling adaptation for a variety of neural interfaces. The device has an array of programmable stimulation parameters, including frequency, pulse width, and amplitude (voltage) for current control, allowing for maximum flexibility in addressing common neurostimulation applications.
Hermetically sealed and made of standard materials, the implant is designed to have low complications. As a transceiver, the system has far-reaching potential to address a variety of conditions with closed-loop solutions.
WEARABLE-INTEGRATED
wireless transmitter
Neuspera's wireless transmitters are lightweight with a small footprint and able to transfer energy deep into the body, without having direct contact with skin, to power the neurostimulation implant. Transmitters are wirelessly charged and have auto-detection (of implants and human tissue), auto-power steering, and auto-data collection. They are engineered to be lifestyle-integrated and can be modified in the future to different form factors to accommodate a multitude of use case scenarios.
For Urinary Urgency Incontinence patients, a wireless transmitter will fit into a customized undergarment, allowing patients to live their daily lives with minimal disruption while receiving treatment.
EASY-TO-USE
smartphone app
Patients will be able to adjust their treatment settings, regulate stimulation status, and perform a number of other functions through a simple and intuitive smartphone application. The app will be upgradeable through remote deployment, providing expanded feature functionality over time.
DATA-DRIVEN
clinician programmer
An iPad-based clinician programmer will give physicians a "command center" view of all Neuspera implanted devices and external wireless transmitters within their practices. The programmer's advanced functionality allows clinicians to modify a number of treatment parameters for patients, change electrode configurations, set stimulation program specifications, and pair one or more wireless transmitters to an implant. Data visualization features display usage and other useful information to help physicians work with patients to optimize therapy.
OUR INITIAL FOCUS
Urinary Urgency Incontinence
The Neuspera Implantable Sacral Neuromodulation (SNM) System is comprised of a minimally-invasive implant and convenient external wearable designed to provide relief from the life-limiting symptoms of Urinary Urgency Incontinence.
For Patients
Reclaim your life from the impacts of UUI with a treatment designed to fit your lifestyle.
Patients
For Physicians
Help your patients benefit from sacral neuromodulation, one of the most efficacious treatments for UUI.
Physicians
OUR
future applications
With a strong focus on improving the lives of patients with chronic health conditions, Neuspera will pursue future therapeutic indications that fulfill this mission. The technology platform can expand to address many scenarios that would benefit from a deeply placed micro-implant. Applications could include a variety of health indications across a number of different nerve targets.